Stacey Weitzman
Assistant Head Coach
(Level 3)
2020 is Stacey's 4th season with the team. She first started mountain biking in northern California in the mid 1990's. Then after almost 20 years of not mountain biking, she returned to it when her oldest daughter joined the Downingtown team. The team needed coaches, and the rest is history!
In addition to mountain biking, Coach Stacey spends as much time as possible exploring on her road bike. She enjoys skiing, kayaking, and hiking, in addition to camping and beach trips. When not on a bike or otherwise outdoors with family and friends, she is an enthusiastic foodie – cooking, eating, and trying new recipes. She's also a music fan, counting alternative rock, new wave, and classic rock among her favorites.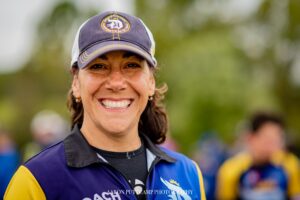 What do you like most about mountain biking?
Flowy trails are my favorite. I love exploring new places and going on adventures.
What do you like least?
I do not like rocky trails or super technical terrain.
How has mountain biking positively impacted your life?
Cycling in general has made a huge positive impact in my life. I've always had a love of all things bikes, but my life truly changed for the better 5 years ago when I started working in the cycling industry. I love sharing my knowledge with others to help improve their cycling experiences an any way I can. I especially love working with women and kids. Being involved with NICAs GRiT program is my mountain bike happy place.
What do you enjoy about being a coach?
I love helping the kids learn new techniques and improve skills. It truly warms my heart seeing the kids reach their goals and overcome fears. My passion for coaching is stronger than my mountain bike skill set, and I find that the kids can be equally encouraging with me.
Do you have a favorite memory of a past season?
Going into my 4th year with the team, I have way too many special memories to pick just one!!
The 2020 season will look very different from past seasons with no big races - what has influenced your decision to remain involved as a coach this year?
To be honest, I'm nervous about how this will all pan out with the pandemic. I think mentally, I need the team and the kids this year just as much as the team needs me.