Coach Profile:
Mark Rossney, Team Director
(Level 3 Coach)
2020 is Mark's 4th season with Downingtown. In addition to mountain biking, Mark enjoys softball and skiing, but his mind is often on a bike even when he is not riding one. Mark may also be found thinking about being on a bike while playing the bass, rooting for the Steelers or the Phillies, or enjoying time with his family.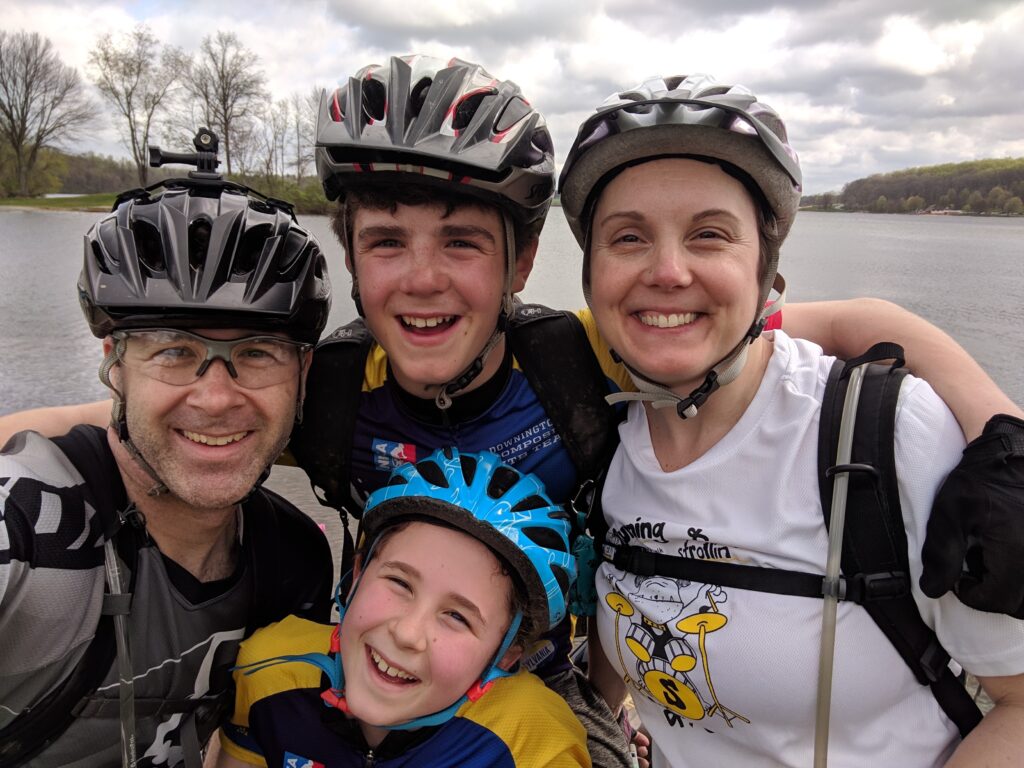 What is your role with the team?
As Team Director, I oversee all the off-the-bike tasks required to make the team run. That means coordinating with a small army of amazing parent volunteers who actually do all of that work. And I send lots of emails on TeamSnap.
Were you involved in mountain biking before getting involved with this team?
I didn't start mountain biking until I was out of college (because the wheel had only recently been invented!). I really got into it about 20 years ago with some co-workers who were avid mountain bikers. My son was getting into it when we came across a team practice at Marsh Creek. Seemed like something fun to do, so we both signed up.
What do you like most about mountain biking?
Hard to list one thing I like most. Freedom, the mental and physical challenge, enjoying our area's natural beauty, the MTB community, it's a sport our family can do together, I get the same rush I got as a kid riding around my neighborhood.
What do you like least about mountain biking?
Having to stop!
What do you enjoy about being a coach?
First and foremost, watching our students improve as riders and achieve their goals. I also love the camaraderie at race weekends. Oh, and it gives me a sweet excuse to ride a couple of times a week!
How has mountain biking positively impacted your life?
I met some of my best friends through mountain biking. And I've never derived as much satisfaction from my own meager accomplishments on the bike as I have from watching our student-athletes improve.
Do you have a favorite memory of a past season?
No way I can list one. I get as much (or more) joy watching new riders finish their first race as I do from seeing a dominating race win. We've seen plenty of both on our team over the years.
The 2020 season will look very different from past seasons with no big races - what has influenced your decision to remain involved as a coach this year?
This team/league is the only way that some kids get exposed to mountain biking, and practice is the only opportunity that some have to ride every week. The team doesn't exist without coaches, so once we knew we had the opportunity to ride together as a team, there was never a moment when I considered not participating. I really look forward to race weekends, so I was massively disappointed when they announced there wouldn't be races this year. But now that I have some covid-perspective, I'm super stoked just to be riding together every week.